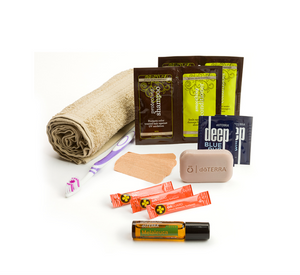 GIVE BACK OPPORTUNITY
*This is a donation item, as such, it will not be shipped to you with your order.


*By purchasing this donation item, your name will be entered into a raffle to win free oils!
DESCRIPTION

dōTERRA's Emergency Relief Hygiene Kit has been designed to help those who need it most during disaster situations.
Each donated kit will be distributed on your behalf in DC to Afghan Refugees. 

dōTERRA's Emergency Relief Hygiene kit contains the following:

dōTERRA Melaleuca (Tea Tree) Touch
Towel
Toothbrush
Adhesive Bandages
Deep Blue Rub Samples
Salon Essentials Shampoo & Conditioner Sample Packets
doTERRA On Guard Toothpaste samples
1.4 oz doTERRA Bath Bar
Note from Owner of The Essential Oil Shop
For those of you whose hearts are breaking at the current global situation, we wanted to offer our condolences.
Many are experiencing conflict and crisis relating to Afghanistan and the effects of the pandemic. We, at the Essential Oil Shop, wanted to express our love to the world.
We found ourselves asking, "How can we help Afghan refugees?" I live in the DC area with my husband, and thousands of Afghan refugees are currently being flown here and need our support. We're helping to deliver hundreds of 72-Hour Emergency Relief Hygiene Kit to them!
If you have been wondering how you can help Afghan refugees,
Here is a way you can donate and give back!
Thank you!
Available in a single pack, 4 pack, or 20 pack.
(SINGLE)
Give today by purchasing 1 relief kit and be entered into our raffle to win free oils.
(4 pack)
If you give 4 relief kits, we want to thank you by sending you a FREE console essential oil! The perfect comforting blend that uses sweet floral and tree essential oils, putting you on a hopeful path of emotional healing.
(20 pack)
If you give 20 relief kits, we want to thank you by sending you the whole emotional aromatherapy touch kit. This includes essential oil blends representing six categories of emotional well-being.
 *If there is a local need for hygiene kits in your area, please contact us and we will see what we can do.