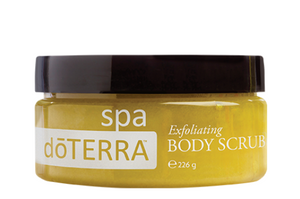 DESCRIPTION
The doTERRA SPA Exfoliating Body Scrub is a natural, indulgent body scrub that gently exfoliates and polishes skin with natural sugar cane, leaving a healthy, natural glow. Infused with CPTG™ essential oils of Wild Orange, Grapefruit, and Ginger, this luxurious scrub provides a custom at-home spa experience that entices the senses, pampers the body, and warms the soul. Formulated with a rich blend of kukui, macadamia, and coconut oils, the doTERRA SPA Exfoliating Body Scrub not only removes dead skin cells through exfoliation, but replaces vital hydration to keep skin looking smooth and soft.
PRIMARY BENEFITS
Wild Orange and Grapefruit essential oils revitalise skin.
Ginger essential oil is soothing and warming to the skin.
Natural sugar cane gently exfoliates skin.
Sunflower oil is rich in essential fatty acids, which smooth and soften skin.
Sweet almond oil serves as a moisturiser and provides a smooth glide across the skin.
Kukui nut oil soothes and moisturises skin with no greasy after-feel.
USES
Use regularly for healthy and glowing skin.

Incorporate into your morning routine and experience the uplifting aromas of Wild Orange and Grapefruit essential oils.

Use the Exfoliating Body Scrub regularly to keep your skin revitalised and soft.

When your skin is feeling rough, dry, or dull apply to leave you feeling renewed and your skin restored.
WHAT'S INSIDE?
Full Ingredients List
Sourced from Madagascar, doTERRA Ginger essential oil is derived from the fresh rhizome of the ginger plant – the subterranean stalk of a plant that shoots out the root system. A featured ingredient in many Asian dishes, Ginger has a hot, fragrant flavour when used as a kitchen spice. In Western tradition, Ginger is most often used in sweets like gingerbread and ginger snaps.
The name "grapefruit" is attributed to the fruits growing in clusters which resemble those of grapes. Commonly known for its sour and tangy taste, grapefruit is the rotund, yelloworange fruit of an evergreen citrus tree. Grapefruit essential oil is derived from the rind of this fruit and is cherished for its many uses and benefits as well for its refreshing aroma and robust flavour
Cold pressed from the peel, Wild Orange is one of doTERRA's top selling essential oils due to its energising aroma and multiple benefits. High in monoterpenes, Wild Orange possesses soothing qualities for the skin that makes it a pleasant addition to beauty products.
DIRECTIONS FOR USE
Apply generously to damp body, massaging gently on feet, elbows, and any other area in need of exfoliation. Rinse thoroughly.
CAUTIONS
For external use only. Avoid contact with eyes.