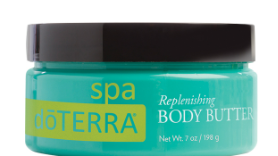 DESCRIPTION
Pamper your skin with the rich hydration and luxurious feel of the doTERRA SPA Replenishing Body Butter. The base of this natural formula combines shea and cocoa seed butters, known for their deep moisturization and ability to promote skin suppleness. Jojoba seed oil absorbs quickly into the skin and helps keep skin looking hydrated while avocado oil provides essential fatty acids to nourish and soften skin. CPTG® essential oils of Wild Orange, Douglas Fir, and Frankincense turn this indulgent formula into an intensely aromatic spa experience while providing purifying and rejuvenating benefits.
PRIMARY BENEFITS
Wild Orange essential oil is known for its purifying benefits.
Douglas Fir essential oil is purifying to the skin and provides uplifting aromatic benefits.
Frankincense essential oil is rejuvenating to the skin and has a balancing effect on emotions.
Shea butter deeply moisturizes while promoting skin suppleness.
Cocoa seed butter is soothing and naturally nourishing to the skin.
Jojoba seed oil absorbs quickly into the skin to moisturize, hydrate, and help soften the skin.
Avocado oil has essential fatty acids to keep skin looking healthy and moisturized.
USES
Massage into hands, knees, elbows, or other areas of the body that typically need more moisture than others.

Include the Replenishing Body Butter next time you pamper yourself with an at-home spa night – the uplifting, rejuvenating aroma of essential oils will be a treat for your nose, as well as your skin.

Incorporate into your regular skin care routine to leave your skin feeling supple and smooth.

Use in conjunction with other dōTERRA SPA products to feel maximum benefits.
DIY SPA NIGHT
Whether you enjoy a luxurious bubble bath, lighting candles, or giving yourself a facial, be sure to follow-up with the Replenishing Body Butter next time you treat yourself to an at-home spa night. The uplifting, rejuvenating aroma of essential oils will create the relaxing, spa-like atmosphere you need to refresh and unwind.
WHAT'S INSIDE?
Full Ingredients List
Douglas Fir is a conifer that grows natively throughout North America. This tall, evergreen fir tree has a sweet and refreshing aroma with a light, lemony note! It is commonly used to purify the skin and promote a positive mood. Douglas Fir is sustainably sourced from young trees in New Zealand, where its overpopulation threatens the country's ecosystem. By harvesting the young Douglas Fir trees and using them for essential oil, dōTERRA helps to combat the environmental impact of the trees overtaking the land.
One of the most prized and precious oils due to its rich aroma, Frankincense is often referred to as the "king" of essential oils. Centuries ago, ancient Egyptians used Frankincense resin for everything from perfume to salves for the skin. Its soothing and beautifying properties may be rejuvenating to skin and may help reduce the appearance of imperfections when applied topically.
Cold pressed from the peel, Wild Orange is one of doTERRA's top selling essential oils due to its energising aroma and multiple benefits. High in monoterpenes, Wild Orange possesses soothing qualities for the skin that makes it a pleasant addition to beauty products.
DIRECTIONS FOR USE
Apply to body, massaging into hands, elbows, knees, and any other area in need of intense moisturization. Store at room temperature.
CAUTIONS
For external use only. Avoid contact with eyes.